Wye Float 2018 Route Information
---
Start Point:

Hereford Rowing Club is our designated start/ preparation point for Wye Float 2018. This can be found by using the address listed below.

There is limited car parking in this area. However, we are currently looking at providing overflow faculties in the surrounding area. All day parking will require a minimum donation of £3. Cars will be left at owners responsibility. Hereford Rowing Club will be providing limited camping plots within the events area which are a very short walk from the centre of Historic Hereford and all the amenities you would expect from supermarkets to restaurants yet is still in a very rural setting. Car parks will open at 09:00am with entertainment beginning at 10:00am. Due to a strict alcohol policy routine searches will be carried out by trained and licenced personnel, so please take this inconsideration when arriving. Any refusal will be denied assess to the area. There will be a large grassed area inside the events area to allow participants to inflate vessels, whilst enjoying the entertainment, food and drink which will be available.
Address:

Hereford Rowing Club,
Hereford,
HR4 0BE.

---
So which way are we floating?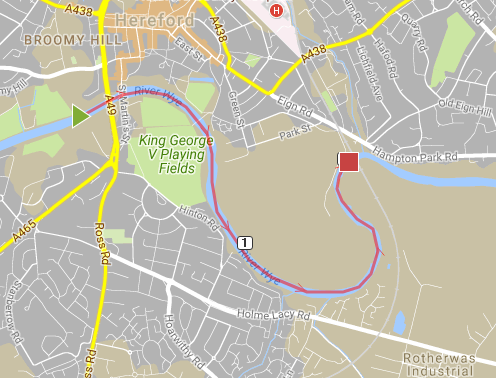 ---
The Finish Point is located next to Outfall Works Road Hereford, which is downstream and approximatly 2.0 mile from the start to finish and will take 2 hours.
Outfall Works Road, Hereford, HR1 1RY
Please remember there is no designated parking for partcipants along Outfall Works Road. Road closure will be in place on the 11/08/2018.
A temporay floating boom will be placed across the river to prevent partcipants floating to far down. Please ensure you exit at the designated area. After completion please move quickly away from the waters edge to help us maintain safety. 
Please ensure all rubbish and deflated crafts are taken home or placed in the designated bins provided.
Signage will be placed along the return route back to Hereford Rowing Club to ensure partcipants walk the safe and the quickest route back. If you have any questions on the route please speak to a Finish Point Volunteer.
After Party will start around 16:00hrs, with alcohol on sale after the last float leaves the start point. Alcohol is only available for returning partcipants and spectators (Over 18s).  
If you have parked in our designated finish point car park or are using it as a pick up point please read the details below.
---
Designated Parking and Pick Up Points

Parking:
Start Point- Hereford Rowing Club, Hereford, HR4 0BE
(£3 All day)
Finish- Vincent Carey Road, Hereford, HR2 6FE
(On street parking free of charge)